Nomads
Nomads is a personal assistant and social networking application designed for the University of Washington commuter student.
About Nomads
Nomads main goal is to get University of Washington (UW) commuter students to school on time using public transit routes and to provide a unique social space to connect in. By integrating students' academic schedules, personal calendars, and their morning routines we are able to streamline public transit commuting to and from UW.
Key features include automated public transit routing, transit and when to leave home reminders, bus capacity notifications, and social networking to connect with fellow students on and off their usual commuting routes.
Research and User Interviews
Before we could design this project, we needed information. Who were our users? What were they using already to get to school? What could we do to help them? We began this process with a competitive analysis of current apps and websites that users make use of already and by conducting individual user interviews to get their take on commuting via public transit. These tools helped us construct our personas.These tools helped us identify UW students as our users and also construct our personas.
Our target users became the students at UW and the scope of our project would be limited to the greater Seattle area. This allowed us to work with easily accessible users in an area they were familiar with.
The my report can be seen HERE
Personas
Probably the most important part of this entire project was our personas. Using what we learned from our research and user interviews, we came up with: Renee and Mitchel. Renee was a biology student who needed to keep their academic and athletic schedules in check and Mitchel was a hard working art student who needed help to balance work and school. Renee and Mitchell guided us through the rest of our process and helped keep our feet grounded in our users. They was a constant reminder of who we were designing for.
Sketches and Ideation
After building our personas, we sketched out some ideas on how to build an app to help them meet their goals, desires, and alleviate some of their pain points. We discussed physical products (on campus storage), creating additional services to the Commuter Commons, and many other ideas. We quickly realized we were trying to solve too many issues at once and decided to scope down our ideas to a mobile app called Nomads. We agreed on using a mobile format because Renee was always on the go and Mitchell needed something that could help get places with little planning. We could handle scheduling his public transit and streamlining her mornings first and add what we could later.
Storyboards
As a group, we each came up with storyboard situations of our personas might encounter while using Nomads. The storyboards were built on the foundations of what we knew about Renee and Mitchell's lives and how they would interact with our first view design ideas. My storyboard can be seen below. It follows Renee as she decides to sleep in and uses Nomads to not only snooze her alarm but find a new bus route at the same time.
Information architecture
With an understanding of how our personas would use Nomads we created our information architecture. We began walking through user flows and the pages we had envisioned for Nomads. Our first iteration was a good first shot at encompassing Nomads' navigation visually but it quickly expanded as we learned what was really required. Major additions in the next iterations included: making profiles optional, more robust settings/options, and a revamping of friends and UW commuters pages.
Paper Prototyping and Usability testing
The IA map gave us a clear vision of Nomads and gave life to the general flow students would take when using it. To test these flows we created a paper prototype. We tested Nomads with three random students in the UW Commuter Commons. We gave them three tasks to complete which were:
Signup and upload a calendar
Add a user profile
Find a friend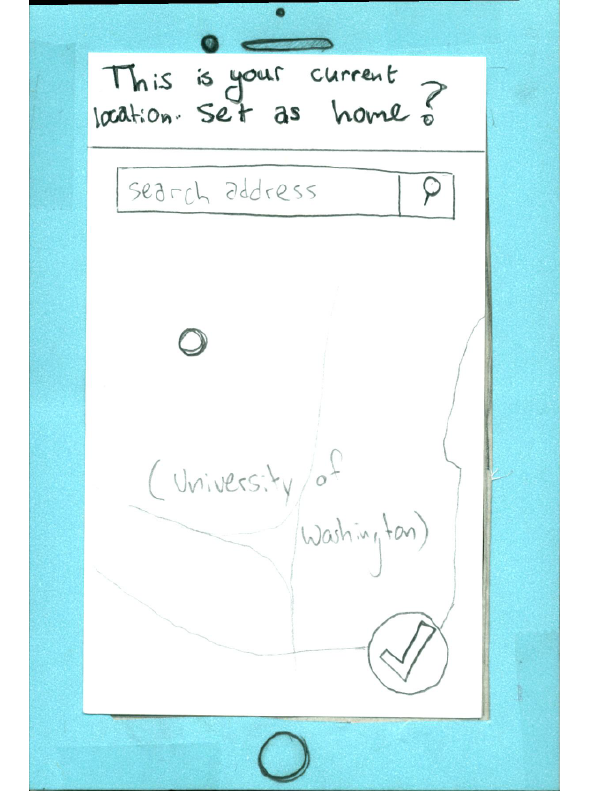 Testing gave us great feedback. We learned that students wanted an option to not create a profile (seen above in the IA Mapping) and about the pro's and con's of the affordances our icons and page layouts. Overall this was a successful testing that proved to be invaluable to our project.
The full report can be seen here
Wireframing
Testing finished, feedback combed through, and a few iterations later we created wireframes for Nomads. We tested our wireframes with fellow design students for critique and then set out annotating them. We finished this phase of Nomads identifying three major key path scenarios:
Profile setup
Sending a friend request
Setting up a calendar
High-Fidelity Mockups
As our final task for this project, Nomads needed a real aesthetic. We each designed our own visions of the home screen and subsequent pages. We took inspiration from our research, our personas, sketches, and usability testing feedback. We critiqued each others designs and then worked together to on one design that is seen below.
Reflection
This project really felt like a success. We had some rough times, hard deadlines, and ran into quite a few problems that we didn't see coming but we still created a product that works well. The final critique of this project came at the hands of industry designers from Amazon and Artefact. The overall feel was a job well done and gave us ideas to improve our processes in the future.
If my team were to continue to improve Nomads in the future, we would want to begin by focusing more closely on issues of commuter safety. Figuring out how to connect people based on their location and routes is an intriguing concept, but this has some serious safety implications. Forming commuter connections would require more research and time to create a well working product.
In addition, we did not fully explore the scenario where a user decides they would like to skip school for the day. How can they do so without the app feeling bothersome? For this our team would like to do more user testing, specifically with the people we interviewed, so as to find ways to make the application effective but not intrusive.
Finally, our team strongly believed that this application could also apply to other university campuses outside of the University of Washington, or even non-university communities. This would require further research to see how the goals of other user demographics compares to those of the UW Commuter Student.